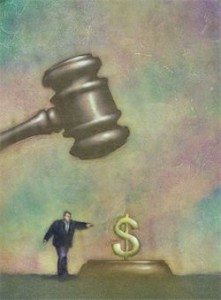 Avoid Probate!  Norman Dacey's 1960s book started the living trust revolution, and people took away at least this much of his message:  don't go to probate court.  Beyond that, most people aren't really sure why they're supposed to avoid probate.
The main reason is its cost.  The court costs and other costs are not too high, maybe $1,500 to $3,000, but the main expenses are the fees for the attorney and the executor.  They're based on the size of the gross estate (debts and liens are not subtracted from the total) and are $7,000 each to the attorney and executor for the first $
200,000 of gross assets, 2% each of the next $800,000, 1%
 of the next $9,000,000, and 0.5% of the next $15,000,000. The court rules on the fee for estate amounts over $25,000,000. 
The court can also allow "extraordinary fees" in addition to the fees above, usually for more complicated matters like selling assets, tax planning or dealing with disputes.
Probate is generally required in California when one dies with or without a will, and the assets outside of trusts or beneficiary accounts are more than $100,000 in value.
By contrast, the fees involved in settling living trusts are usually less.  Trustees, whose role is similar to that of executors, typically charge 1.5% to 0.75% on a sliding scale, with the percentage charged decreasing as the estate gets larger.  Attorneys can charge hourly or on a percentage basis, and their fees average between 0.5% and 1% of the value of the estate, with most being on the lower end of that scale.  Given the size of most estates in California, the administrative costs and fees for a trust will be less than those for a probate.
The other advantage to trust administration is that it usually takes less time than a probate to settle.  There are still statutory waiting periods, but trustees can move faster without having to be tied to the court's schedule in getting hearings or waiting for orders to be approved and entered.
So, probate is not a bad thing, and I've handled hundreds of probate matters, but given the choice, I'd say trusts and trust administrations are better, with less cost and stress for clients in most situations.
Social Share