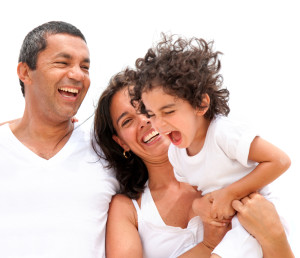 Starting a family is a wonderful and exciting time. There is much to do since your child needs constant attention and your getting enough sleep and time for other activities is not high on your list of priorities, at least not at first. As new parents, though, you should consider getting life insurance, naming beneficiaries, making a will and getting a living trust.
What is a Trust?
Most people are familiar with wills. It is a legal document that expresses your intent how you want your property to be distributed, how you wish to be interred, and other wishes.
A trust is a legal entity created in a document that sets forth certain rules and conditions regarding certain assets that you own. A trust is a way of avoiding probate and the costs that accompany it and offers a smooth transition of title to certain property to whomever you designate.
A revocable living trust can consist of you and your spouse as trustees, giving you control over any assets included or owned by the trust. You may include property such as bank accounts, retirement accounts and any real property in your trust. If you have a life insurance policy, you may name the trust as the beneficiary. For any property owned by the trust, you retain control if you are the trustees.
Name successor trustees 
What if you both die in an accident? By naming a successor trustee, you can have a person you trust handle your assets or use the funds available for the benefit of your children.
When do the children get full access? 
You may choose any age you wish for your children to gain full access to whatever money is remaining in the trust when they attain that age. It can be 21, 25 or 35.
 Avoid probate 
The trust assets are non-probate assets. Avoiding probate means not incurring considerable funds in the administration and passing of title of your assets to your beneficiaries, or survivors, and your children can get almost immediate access to the assets.
Special needs trust
If you have a child with special needs such as autism, a special needs trust can help provide for them without having to be declared ineligible for government benefits your child would otherwise be entitled to.
How Much Does it Cost?
 Creating a living trust range anywhere from about $2000 to $4000 depending on the complexity.  Although this may sound expensive, consider that having your assets go through probate will cost your estate considerably more money. Here is an example, say an estate's gross value is worth $300,000 and based on your needs we determine that your living trust will cost $2,500. By comparison, if you choose to not get a living trust and let the probate courts  deal with it, the current statutory fee on a $300,000 estate comes to $9,000! You will be saving your heir $6,500 in this example, not to mention the grief of having to deal with probate.
An alternative is to create a trust in your will that takes effect on your passing, called a testamentary trust. It can be challenged, however, and you do need to have it probated along with all its attendant costs.
Another option is to name guardians or custodians of your minor children. Your money will pass to your children to be administered by the custodians until they reach a certain age, or 21 in most states.
Social Share