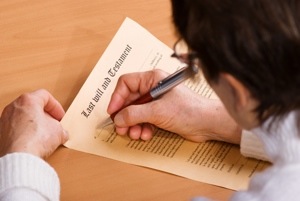 We get asked this a lot, "Does a will have to be probated?" Generally, a will does have to be probated. Most people have assets that are solely in their own name that they are leaving to their heirs or to named beneficiaries. This includes property or assets held as tenants in common with others that have not been funded into a trust.
Assets Not Subject to Probate
The decedent may also have substantial assets that need not be probated. If the decedent had a Revocable Living Trust with assets funded into it, then any asset owned by the trust will automatically pass by law under the terms of the trust without the need for probate intervention.
Life insurance provides an easy method of providing much needed income and for paying off debts. These proceeds also pass automatically to the designated beneficiaries of the insurance policy without the need for probate.
Retirement accounts such as IRAs, annuities, and 401(k) accounts do not need to be submitted to probate. If there are remaining funds in these accounts at the time of the decedent's death, then they will pass by operation of state law to the designated beneficiaries. If no beneficiaries survived, then the proceeds would become an asset that required probate.
One other account that has funds that may escape probate are ones that have a Payable on Death designation, or Totten Trust as some states have named this practice. Any bank account can have this designation so that a named beneficiary need only provide proof of the account holder's death for the funds to transfer. Unlike a trust, however, the holder cannot set up alternate beneficiaries on one account. This can be avoided by setting up multiple Payable on Death accounts for different heirs. You should check with your bank regarding the state requirements and restrictions for these accounts.
Summary Procedures
For small estates or those under a certain value as established by the state where the will is being probated, summary procedures are available. These are generally used where there is no real property or where the decedent had no debts secured by real property at the time of death. Most executors or personal administrators need only file an affidavit along with a form provided by the probate court proving the value of the estate, or that no real property was owned by the decedent so that the remaining personal property can be distributed.
Regardless of the seeming simplicity of these procedures, there are often technical requirements involved or disputes that require the advice of a wills and trust or estate planning attorney before using this or any other probate procedure.
Social Share