Part of the planning for your estate includes insurance, like life insurance, disability insurance and long-term care insurance. Today I'll take a look at planning with life insurance.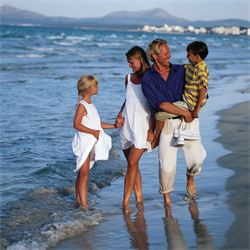 First, ask how much money will your family need after your death to meet immediate expenses, like funeral expenses and debts?  And then, how much will they need to maintain their standard of living in the years to come?  If your estate (don't forget to include life insurance proceeds) is over $5.25 million, how much will they need to pay estate taxes?
Life insurance proceeds can help pay immediate expenses like medical costs, funeral expenses, estate settlement costs, taxes and other lump-sum obligations such as outstanding debts and mortgage balances. They can also help your family have enough for future financial obligations like living expenses, college tuition or your spouse's retirement.
But how do you know if you need $100,000, $500,000, $1 million or more? The most common way to determine your life insurance needs is by using a Capital Needs Analysis:
Start by evaluating your family's needs. Gather all of your personal financial information and estimate what your each of your family members would need to meet current and future financial obligations. Then add up all of the resources that your surviving family members could use to support themselves. The difference between their needs and the resources in place to meet those needs is your need for additional life insurance.
In other words, start with all current debts and assume you need enough insurance to cover that amount. Then, you'll need enough to provide an investment portfolio large enough to provide the desired annual income.  Being conservative and assuming the ability to take 4% annually from the portfolio means the insurance amount will have to be 25 times the annual income desired.  Thus, providing a $100,000 income requires $2.5 million of insurance.
Also consider that if you have been good about saving for retirement, you may only need enough insurance to bridge the gap between now and your spouse's retirement.
Talk with a life insurance professional or your financial advisor–if you don't currently have one, call our office at (888) 503-7615 or 
email us
 for some referrals to some of the great people we work with in Los Angeles, San Bernardino and Riverside counties.  Life insurance is an important planning tool, and works well with your revocable living trust, special needs trust and irrevocable life insurance trust (ILIT), as well as business succession planning and buy-sell agreements.  It's also important to be sure your estate planning documents are coordinated with your insurance–we're happy to review them with you at our offices in Pasadena, Chino Hills and downtown Los Angeles.
Social Share