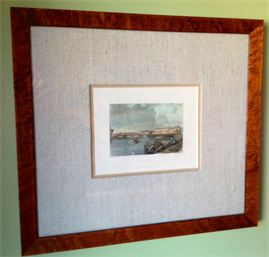 I was sorry to hear today of actor Larry Hagman's sudden passing–I was a fan of "I Dream of Jeannie" as a child, even if I didn't get into "Dallas" as much as my grandfather did–if he was out Friday night, we all knew he had to be home before 9pm when the show started.
I like collecting celebrity memorabilia, so Julien's Auctions is a favorite auction house of mine.  A couple of years ago they had a large auction of Hagman's items from his Ojai house–he was selling quite a bit as he was moving to a smaller Wilshire Corridor condo.  I picked up a couple of Italian prints of Venice that now hang in my kitchen, one of which is pictured here.  I would have picked up some cowboy hats too (he had quite a few!) but those ended up selling for more than my budget–oh well.
I wondered about the reason for selling the house and the contents, and thought he moved perhaps to be closer to Los Angeles for filming the new Dallas series, but the obituaries today mentioned him finding assisted living care for his longtime wife who suffers from Alzheimer's–it's difficult to find such care and even more difficult to find facilities with room available.
Have you checked your estate plan to see that your powers of attorney, and your trustee choices, are up to date if you need care?  It's important to be sure, and even if your trust doesn't need updating, your durable powers of attorney may.  Are they compliant with health care privacy laws (HIPAA) under national and California law?  Are your agents who you'd like them to be?  Do they know your wishes and have you discussed those with them?  Should you consider a professional trustee or corporate trustee if family members aren't as available as they should be?
If you have questions regarding estate planning, durable powers of attorney, HIPAA, elder law or probate, please contact our office–we're in Pasadena, Los Angeles and Chino Hills, and serve Los Angeles, San Bernardino and Riverside counties.
Social Share