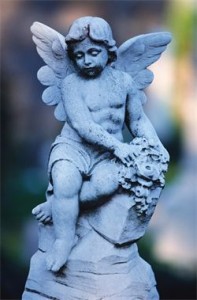 Or rather, your share of Grandma's stuff may not be.  Police in the Minneapolis area have arrested a couple of suspects who they say stole from homes of the recently departed while their families were at their funerals.  The thieves apparently used obituaries to target the homes.  Click here for the story.
Even if professional burglars aren't after your family's inheritance, I've dealt with cases where the family members themselves backed up the U-Haul to Uncle Bob's house and helped themselves to the good stuff while the rest of the family eulogized at the funeral, completely unaware.
It's worth taking steps to secure valuable items after someone's died, and make an inventory, because tangible personal property, especially that without title instruments, is nearly impossible to track when it's missing after someone dies.  And you can't always depend on every family member or friend to do the right thing.  If you've been named as trustee or executor it's especially important to secure the valuables and make the inventory as soon as possible–it's something you can expect from a corporate trustee, trust company or private professional fiduciary like U.S. Trust.
If you have any questions about trustees or estate planning, please contact Senior Trust Officer Christopher B. Johnson at cbjohnson@ustrust.com or (626) 844-8606.
Social Share