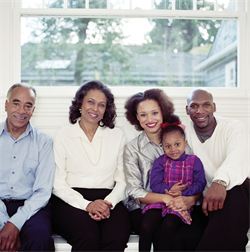 Every year, U.S. Trust surveys high net worth and ultra high net worth individuals, and its latest survey results are out, with some surprising insights.  I've highlighted some things below, but 
here's the link to the full survey and other information on their website.
Forty percent of Gen-Xers and Gen-Yers, aged 18 to 46 versus 20 percent of Baby Boomers have established a financial plan for parents' elder care needs.
Gen-Xers and Gen-Yers and the generation older than the Baby Boomers are closely aligned in the importance of intergenerational wealth transfer, with 76 percent of those aged 18 to 46 and 73 percent of those over the age of 67, saying it is important to leave a financial inheritance to their children. The primary reasons for leaving an inheritance are to preserve the continuity of family wealth and to influence their children's lives after they are gone. By comparison, only about half (55 percent) of Baby Boomers think it is
important to leave a financial inheritance to their children. Among those who don't think it is important, one in three (31 percent) said they would rather leave money to charity than to their children.
With greater similarities in attitude to the generation before the Baby Boom, Gen-Xers and Gen-Yers are focused on the needs of the family and the continuity of family wealth, including leaving a financial inheritance to their children.
They are pragmatic, proactive and disciplined in their approach to investing and wealth management, surpassing Baby Boomers in planning for wealth for themselves and their families.
The annual U.S. Trust Insights on Wealth and Worth study has consistently identified family harmony and financial security as top goals.
Eighty-five percent of respondents said they have talked with their spouse about long-term care plans, but more than half (56 percent) have never communicated their plans with their children, and four in 10 (43 percent) have never talked with parents and older relatives about what that generation's plans and expectations are.Six in 10 (61 percent) of wealthy parents are not fully confident their children will be well-prepared to handle any financial inheritance left to them, with Baby Boomers having the least degree of confidence. Only 32 percent of Baby Boomers, compared to more than half (52 percent) of Gen-Xers and Gen-Yers and 54 percent of older respondents (age 67 and older), are confident their children will be prepared emotionally and financially to receive a financial legacy.  I wonder if the Baby Boomers have little confidence because they themselves are the least likely to have saved wealth for their future.The vast majority of survey respondents have the basic elements of an estate plan including a will, a healthcare power of attorney/advance health care directive and a financial power of attorney. Yet, consistent with previous research, the wealthy – and particularly those who are younger – are underutilizing trusts. Only 51 percent have a revocable trust and only 22 percent have an irrevocable trust.
Despite their considerable resources, nearly six in 10 respondents overall do not have a comprehensive estate plan, including 66 percent of Baby Boomers, 70 percent of those under the age of 47 and 48 percent of those over the age of 67.
When asked why they have not established a trust, U.S. Trust found widespread misunderstanding and lack of professional guidance. The top reason (43 percent) is a belief that because their wishes have been outlined in a will there is no need for a trust. Procrastination is the second-biggest reason (31%). Another 17 percent said they don't think they have enough money to warrant having a trust, and an equal number said they
don't even know what the benefits of having a trust are.
One in three high-net-worth households thinks social media and personal information online have increased the risk to their family's privacy and safety. Yet, only 13 percent have sought educational information about protecting privacy and security and only 14 percent have ever conducted an analysis of online information about themselves or family.
U.S. Trust is part of the Global Wealth and Investment Management unit of Bank of America, which is a global leader in corporate trustee services, wealth management, private banking and retail brokerage. U.S. Trust is responsible for $333.8 billion in client balances. The firm employs more than 4,000 professionals and maintains 140 offices in 32 states.  If I can help with trust administration, professional trustee or corporate trustee services in Pasadena or Southern California, please contact Christopher B. Johnson at (626) 844-8606 or by 
email
.
Social Share