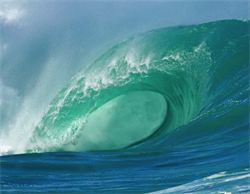 After watching the Patrick Swayze classic 
Point Break
, I've learned it has a lot of useful tips for thinking about trustees.
1)  Respect your elders
.  So true, and even more so when spoken by the great
Gary Busey
.  Choose the right trustees for taking care of you and those you love when old age and incapacity comes.
2) 
Corporate trustees won't miss the bank robbery while they're eating a meatball sandwich
.  You can have two great people as co-trustees, like F-B-I Agents (!) Keanu Reeves and Gary Busey, but they may still let the money run out of the bank while distracted by meatball subs or a great Calvin & Hobbes comic strip.  Professional trustees are on the job 24/7 with a team of people dedicated to your trust, and hunger for meatball subs won't keep them from protecting your assets from the marauding ex-Presidents.
3) 
When you've got a professional team of trustees, they won't be taken down by a bum knee
.  Johnny Utah was a football great, but his football career was cut tragically short by his bad knee.  And despite pursuing Bodhi through shrubbery, kiddie pools, crazed women with brooms and growling dogs, he missed his goal of capturing him because of that same knee.  Corporate trustees have reliability and consistency.  We're not afraid of dogs, either.
If you have questions about finding a professional trustee, or are looking for the best in corporate trustees, please contact Christopher B. Johnson of U.S. Trust at (626) 844-8606 or 
cbjohnson@ustrust.com
.
Social Share