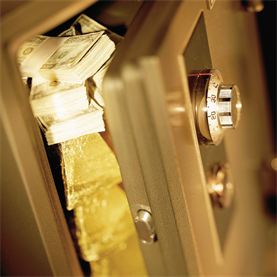 In the often mysterious probate process, the conventional wisdom says "Don't waste your money on a bond!" New probate clients often tell me this, then ask, "What's a bond, anyway?" It's a type of inexpensive insurance, paid for out of estate funds, that pays beneficiaries when the executor steals or loses money. People assume they'll never be victims, but it happens often enough that I'm not comfortable advising people to waive the bond requirement as a matter of course. Here are a few examples from my own clients' experiences where bonds came in handy:
–the executors, a father and son team, who disappeared with $1.5 million of their siblings' inheritance.
–the conservator for several U.S. military veterans who lost or stole hundreds of thousands of dollars of her clients' funds and gave her personal assets away to avoid repayment. She was also part of the inspiration for a series of L.A. Times articles on conservatorship abuses and later legislation designed to prevent such abuses–sadly, the bill was not named after her.
–the executor who helped himself to his parents' house, borrowed the maximum against it and lost it to foreclosure. In his defense, he thought he needed it a lot more than his equally destitute brothers did.
–the administrator who let the estate's house go to a property tax sale while he was in prison. Before he went to prison, he joined some family members in a treasure hunt at Grandma's house, looking for the cash she often stashed away, leaving holes in the walls, floor, ceiling and even the yard.
Two things to take away from this: 1) bonds are usually a good thing, and 2) you meet the nicest people working in probate.
Also, the probate court may require a bond, especially in Los Angeles County, in an amount at least large enough to protect the estate's creditors.  And from the examples above, even the most trustworthy-seeming executors can lose your inheritance due to fraud or self-dealing and leave you with large probate litigation bills.
Social Share